Life today, after being a World and an Olympic Champion!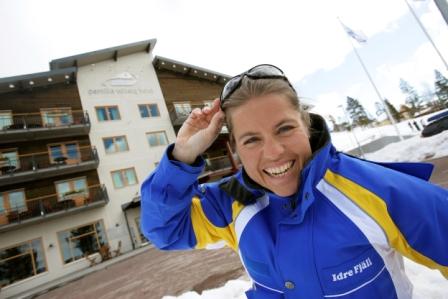 Ok, it is not like anybody is going to take away my Olympic and Worldchampionships titles from me... ;-) But the day comes when all athletes need to make a very difficult choice...
Having been an athlete from as long as I can remember it is of course a big decision the day you decide to end it. I decided to end it 2002 after 12 years in the alpine skiing world cup with 2 Olympic gold medals, 4 World Champion titles, 1 World Cup overall title plus an individual SL World Cup title and 24 World Cup competition victories in all five disciplines on my CV. What to do now!?! 
Just to get the necessary information in here first, I am married to a lovely Norwegian man and we have two wonderful children. One boy and one girl; "Le choix du roi!" ;-) We live in Monaco and have a summerhouse in Sweden.
I have never really liked the word sponsor. I like the word cooperation partner much more. If you have the opportunity to be able to work together with a company, during your active life as an athlete, it is a real privilege if you can continue to work with them after your active career.
I have had that opportunity with Idre Fjall. Idre Fjall is a little ski resort very close to the Norwegian border up in the northwest part of Dalarna in Sweden. If you are looking for the wilderness, but at the same time high standard facilities, this is the place. The little village Idre was once a mining village but at the end of the 60´s the mining industry was not doing well. To be able to keep the village going something had to be done! Three very dedicated young men; Erik Hjelm, Gosta Frohm and Gote Eek decided to do something drastic. They asked the government to lend/give them some money which they put in a foundation called Idre Fjall. From that day on, ski lifts and cottages has been built. In 2003 I and Idre Fjall built a hotel with my name on it, "Pernilla Wiberg Hotel" was established! 
In 2003 the Swedish TV company, SVT, asked me if I could help them to comment alpine skiing on their channel, and so I have been doing ever since.  I also worked for a Norwegian TV company, TV2, during the 2014 Winter Olympic Games in Sochi.
I am since May, 2015, a member of the board of the company MIPS AB which is producing technology for helmets to make them more safe against rotational violence to the brain.
 www.idrefjall.se
www.pernillawiberghotel.se